KALI
Force-assisted, mobile systems for cargo handling and logistic chain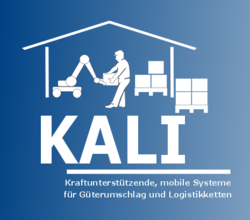 Scientific Leader:
Project leader:
The project KALI conceived mobile support systems for port-related logistics. The aim is to optimize the working conditions in manual cargo handling and logistic in order to reduce physical stress and to improve the logistics processes. Not only the technical feasibility, mobility and modularity of the identified solutions are in the focus, but also the security and acceptance of workers as well as the related ethical, social and legal issues.
Project details
Based on specific applications in various areas of port logistics, manual activities and work steps are identified, analyzed and evaluated. At the end of the user-centered process there is a concept which ensures load-oriented human support. The support will be realized through a technical system which relies on close human-robot cooperation in heterogeneous logistical activities.
The system will be designed to minimize the physiological and informational burden in the daily work, to improve the work environment and to make a sustainable work possible. For this purpose a modular concept needs to be developed that cover all relevant requirements. Equally, measures will be developed to increase the acceptance of the users, the employers' liability insurance association, insurance, and works council. Furthermore, an economic analysis will be considers the profitability of the developed concept. The project results will outline the final concept in a CAD model. Moreover, an animation of the scenario and the developed concept clarifies the application potentials.
Videos
KALI: Force-assisted, mobile systems for cargo handling and logistic chain
Back to the list of projects