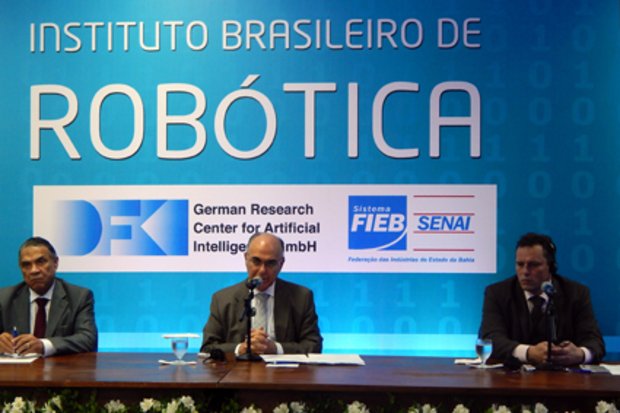 Brazilian Institute of Robotics (BIR)
The Brazilian Institute of Robotics (BIR) is based on the model of the German Research Center for Artificial Intelligence (DFKI) and opened in October 2013 in Salvador da Bahia. It belongs to Brazil's national service for industrial apprenticeship SENAI (Serviço Nacional de Aprendizagem Industrial), where scientists are researching on robotic systems for industrial applications. Scientific Director is Prof. Dr. Dr. h.c. Frank Kirchner, at the same time head of the DFKI Robotics Innovation Center and of the Robotics Group at the University of Bremen. He is responsible for the scientific and technical guidance at the BIR.
SENAI and DFKI closely cooperate in the fields of education and research, exchanging junior researchers and scientists. The objective is to support the research-orientated teaching and learning on an international level and jointly with industrial partners.
The BIR's fields of robotics research focus on intelligent mobility, mobile manipulation, architecture and learning as well as human-machine interaction. The BIR is financed by the SENAI "Center for Integrated Manufacturing and Technology" (SENAI CIMATEC), founded in 2002 and located in Salvador da Bahia. It is one of the most important hubs for the implementation of scientific knowledge in industrial applications.
Prof. Dr. Dr. h.c. Frank Kirchner
Scientific Director of Brazilian Institute of Robotics
Head of Robotics Innovation Center
Phone: +49 421 17845 4101
E-mail: Frank.Kirchner@dfki.de
Text folgt in Kürze