Maritime Exploration Hall
The 1,300 m² Maritime Exploration Hall serves to test new robotic technologies on and under water. Everyday missions of the offshore industry are simulated, maneuvers are carried out and skills of future systems are demonstrated. The infrastructure comprises a large basin, two separate test basins, a virtual reality laboratory, a pressure chamber as well as complete technical equipment from cranes up to laboratories.
Infrastruktur samt technischer Daten auf einen Blick:
großes Testbecken 3.400 m³ - 23 m x 19 m x 8 m

viel Platz für Roboter und Experimente
3,4 Mio. Liter Salzwasser
Stellfläche für zwei 20 Fuß-Container am Beckenrand und großzügige Logistikfläche vor dem Gebäude
Unterwasser-Motion-Tracking-System

ermöglicht die milimetergenaue Lokalisierung


Portalanlage mit drei Translationsachsen

zur exakten Bewegung von Versuchskörpern
Druckkammer

zur Simulation von bis zu 6.600 m Meerestiefe (660 bar)


Mehrere Krananlagen von 250 kg bis 12.5 t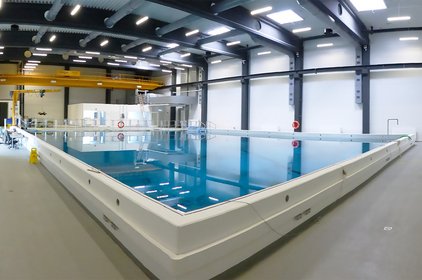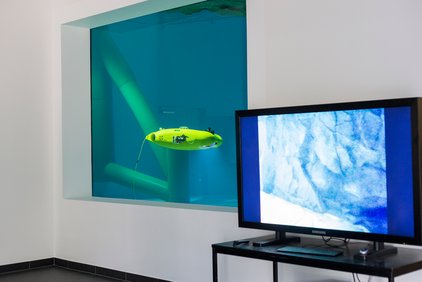 Kernstück der Testanlage ist das 23 Meter lange, 19 Meter breite und 8 Meter tiefe Becken. Mit 3,4 Mio. Litern Salzwasser schafft es Forschungsbedingungen, die von der Witterung unabhängig, kontrollier- und beobachtbar sind, zudem aber realitätsnahe Bedingungen für den Robotereinsatz bieten.
Moreover, the Maritime Exploration Hall comprises a glass tank containing 40.000 liters with three glass walls for optimum oberservation of test runs. A further test basin, the so-called black tank, can be covered to shield it against external light and permitting control of the water turbidity. A gentry crane with a lifting capacity of 500 kgs spans the whole basin area.
Max. capacity:
40 m³
Size (l x w x d):
5 m x 4 m x 2.2 m
Material:
Glass and steel
Observability:
Full observability from outside the tank through 3 glass walls
Water treatment:
Circulation efficiency max. 28 m³/h
Monolayer-sand-filtration
UV-sterilization 75 W
Automatic regulation of water parameters
Specificity:
Complete observability of outside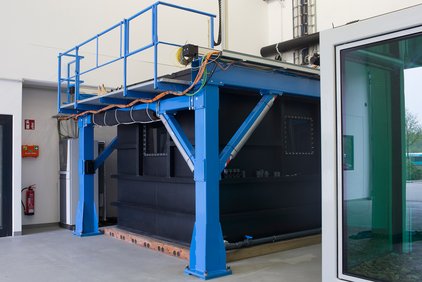 Max. capacity:
20 m³
Size (l x w x d):
3.4 m x 2.6 m x 2.2 m
Material:
PE (black)
Observability:
Through 2 small observation windows
Water treatment:
Circulation efficiency max. 28 m³/h
Monolayer-sand-filtration
UV-sterilization 40 W
Automatic regulation of water parameters
Specificity:
Optical simulation of underwater environments without external light
Gantry crane:
Manufacturer:
Parker Hannifin
Axis:
3 (X, Y, Z)
Type:
X/Y-axis: HPLA120
Z-axis: HZR100
Maximum speed:
5 m/s
Maximum acceleration:
10 m/s²
Nominal drive torque:
X/Y: 74.2 Nm
Z: 57.3 Nm
Repeat accuracy:
+/- 0.2 mm
Live load:
1500 N
Max traversing distance:
X: 3400 mm
Y: 2600 mm
Z: 2000 mm
Unterwasser Motion Tracking System
Für die millimetergenaue Lokalisierung der Robotersysteme im großen Salzwasserbecken kommt eine Technik aus der Film- und Spieleindustrie zum Einsatz: 3D-Motion-Capturing. Insgesamt zwölf Kameras erkennen optische Marker an den Robotern und berechnen daraus die genaue Position und Lage im Becken. Mit diesen Daten kann die Präzision der Roboter und ihrer Sensoren evaluiert werden.
| | |
| --- | --- |
| Hersteller: | Qualisys AB |
| Kameras | 12 Stück |
| Auflösung: | 12 Megapixels pro Kamera |
| Abtastrate | 300 Hz |
| Genauigkeit: | Ca. 4 mm |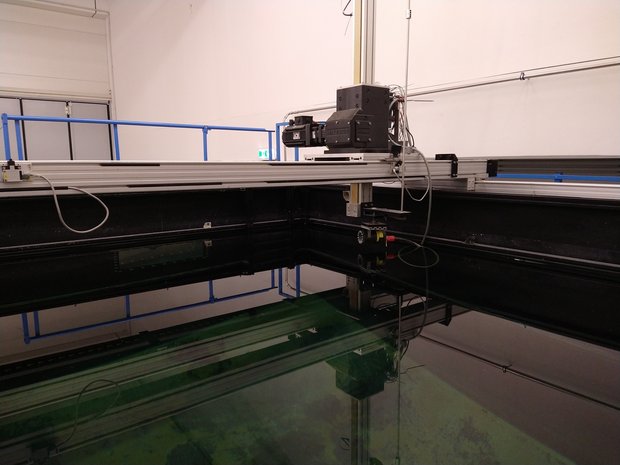 Das Schwarze Becken ist mit einem leistungsfähigen Portalkran mit drei Translationsachsen ausgestattet. Mit dem Portalkran können Sensoren, Proben und andere Versuchsobjekte präzise im Wasser bewegt und positioniert werden.
Hersteller:
Parker Hannifin
Achsen:
3 (X, Y, Z)
Maximalgeschwindigkeit:
5 m/s
Maximalbeschleunigung:
10 m/s²
Wiederholgenauigkeit:
+/- 0,2 mm
Nutzlast:

1500 N

Maximaler Verfahrweg:
X: 3400 mm
Y: 2600 mm
Z: 2000 mm

Wie verhalten sich Materialien unter hohen Drücken? Wie verändert sich das Verhalten von Sensoren und Aktoren in der Tiefsee? Halten Dichtungen dem hohen Druck stand? Um diese Fragen zu beantworten, verfügt die Maritime Explorationshalle über eine Druckkammer mit der Drücke von bis zu 660 bar erzeugt werden können. Das entspricht einer Wassertiefe von 6.600 Metern.
Maximaler Druck:
660 bar (entspricht einer Wassertiefe von etwa 6.600 m)
Volumen:
75 l
Abmessung:
Innendurchmesser: 40 cm
Nutzbare Tiefe: 60 cm
Einsichtmöglichkeiten:
Beobachtung per Kemara
Ausstattung
Portalkran
Elektrische Durchführung:

Bis zu 48 Leitungen (max. 8 A Stromführung
Weitere Informationen: Druckkammer